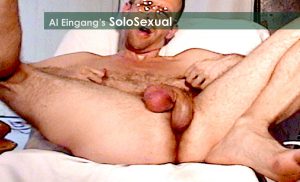 My seventh solo video SoloSexual has been one of my bestselling works, with a popular mix of my astonishing solo-sucking skills and amazing solo ass-play.
Stills from SoloSexual (click to enlarge)

• Part 1 of SoloSexual consists of one long, glorious solo sucking scene and it's one of my "Solo Sex Diaries"-style scenes – shot all alone, with just me, a camera, and my big hard cock.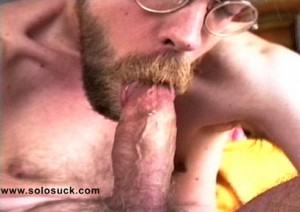 When I'm horny and I really need some Me-time I turn off the phone and head for my bedroom. I loosen up until I can swallow my fat, hard cock and – sometimes – I decide to set up the video camera so you can share my incredible solo pleasures with me. It was a beautiful, sunny day when I shot this scene so it's all natural lighting. Just me in my favorite selfsucking chair – stroking and sucking on my huge cock – really making love with myself – getting totally by my stiff, veiny prick and my sensitive, furry nuts.
I had a beard when I shot this scene, and I was going "all natural" with the untrimmed hair on my nuts and around my 8 incher. The thing I love about this scene is the intensity of my focus and the fleeting looks that pass across my face as I dedicate myself to my pleasure. My super-sensitive nips, my hot nuts and my hairy ball-sack, my bearded lips and my questing tongue – all the tools of a man obsessed with erotic satisfaction.
Licking and nibbling on my nips and stimulating them with the head of my hard cock; putting on a leather ball-strap and ticking my balls with my mustache, and, of course – sliding my bearded mouth up and down the fat shaft of my achingly hard prick and teasing the swollen head with my teeth and lips and tongue.
I'm a lucky, lucky man and I love sharing the talents I've been blessed with with you – I hope you'll hold off cumming until the end of this scene so we can get off together. Enjoy!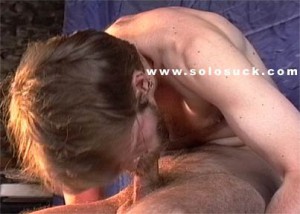 • Part 2 consists of one longer suckin' and strokin' scene that I shot all alone, with just me, a camera, and my big hard cock, and then a shorter selfsuck scene with my buddy Greg operating the camera. I have a beard in both of these scenes, so if you – like me – love to watch a bearded man making love to his cock these are going to be an extra turn-on for you.
I love the first of these two hot scenes. I'm on a high stool in front of a vivid blue backdrop with natural light streaming in on my furry body and my big dick. When I'm in this position – with that stiff cock floating and pulsing in my lap, waiting to get sucked – I have to lean over and hook my arms under my legs to pull my head down so I can catch the shiny head of my beautiful dick in my mouth.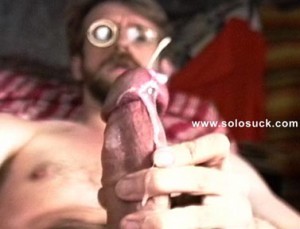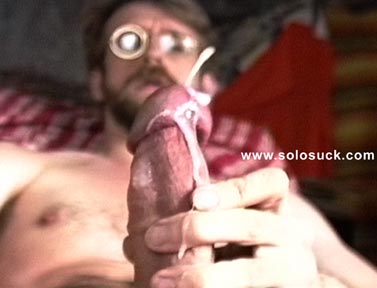 Stroking, licking, sucking, worshipping my own stiff, hairy, veiny manhood. Teasing the swollen head of my prick and working the sensitive skin below the head, then swooping down my 8 inch shaft to challenge my throat with my totally engorged meat. Come along on my journey to a sexual paradise that few men ever get to experience, and watch me push myself to the edge of orgasm and then over into ecstasy – I hope you'll time it so we come together.
The final 6 minutes of this section are a scene that my straight buddy Greg shot for me. Beautiful natural light and me in my favorite solosucking chair. I love showing off my big cock and my amazing talents, and Greg was as intrigued as any other guy by what I can do. Lots of cock-teasing and copious pre-cum as I exhibited my special skills for my buddy. I LOVE pre-cum and I had plenty to lick off of my cock during this hot session!
• Part 3 is all about ass (along with some cock-licking and cum-spurping, of course). When I start playing with my tight hairy hole I turn into a raging ass-pig, and I do things to myself that few men even dream of, including fucking my own ass my big prick. I don't get into my butt all that often, so when I do it takes some time to relax and get myself ready for the extreme insertions. Stroking my big stiff pole and leaning over to lick the delicious precum out of my piss-slit are sure to get me hot, and that starts to relax my furry butthole.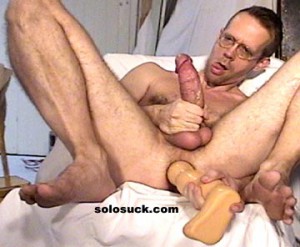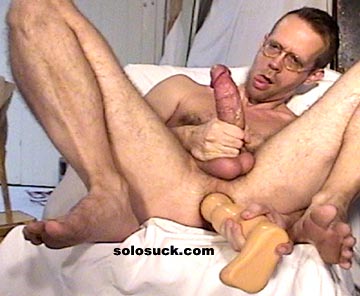 Once I have a finger or two in there I really start to feel that need to get my hole stretched wide, and to feel something long and hard pumping deep inside me. Time to pull out – and push in – my favorite dildo: the extra-long, with the big, fat, speed bumps. Getting that first wide section into my hungry ass is hard, but then the dildo gives me a little break as it narrows down, but – another push deeper and it's time to loosen up that hole for another challenge. Once I have two of the knots in my ass I'm getting some deep, deep pleasure, with the fat head buried way up inside me and the second fat bump grinding on my sensitive prostate as I push the big shaft in and out of my voracious butthole. And with my own big, stiff cock floating and pulsing in front of me, how can I resist – I have to lean over and lick the dripping precum off of my shiny cockhead.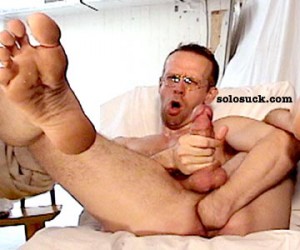 Dildos are great, but when I get this hot I really have to give myself a hand – and I mean all of it. Forcing my nuts up my ass gets me moving, and then it's time for some serious action. Four fingers in the hole just gets me hotter, and when I add my thumb things start to get serious. It's a challenge, but once I reach this level of erotic rapture the line between pleasure and pain is erased and – with one final push – it's all in there and the pressure inside and extremity of the sensations drives me to the first orgasm of this session. Hot cum pours like lava from the hugely swollen head of my prick and – you know I need that man juice in my mouth, so I bend over and lick off as much of it as my greedy pig tongue can get.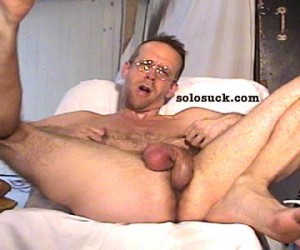 I've squirted my first big load and I haven't even started to fuck myself yet! My hungry ass needs my thick veiny pole, and my eight inches of pulsating meat need to be buried as deep as possible in my lubed-up, muscular butthole. Solo asshole fucking is an art and, false modesty aside, I am a master. Pushing my big nuts into my ass is one of those "hurts so good" things that gets me hot and ready for some solo buttfucking. I slide my hairy asshole-fucker into my own tight manhole and give myself a long, deep fucking with my my veiny, swollen meat – pumping that extra-large fuckpole in and out of my sensitive fuckhole, satisfying myself as both the top and the bottom in this ultimate act of male self-pleasure.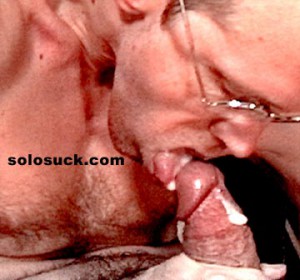 We finish off Solosexual with a big edging finale where I stroke and lick and suck on the head of my tool until I can't hold off any longer. I shoot a small load upwards, onto my greedy tongue, and then I work out the big, final load of cream; licking my juice off of my swollen prick and then dribbling it back onto my meat so I can lick it off again before I swallow my cum – totally satisfied.