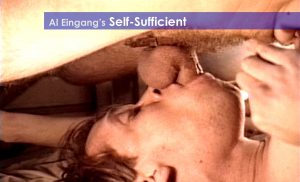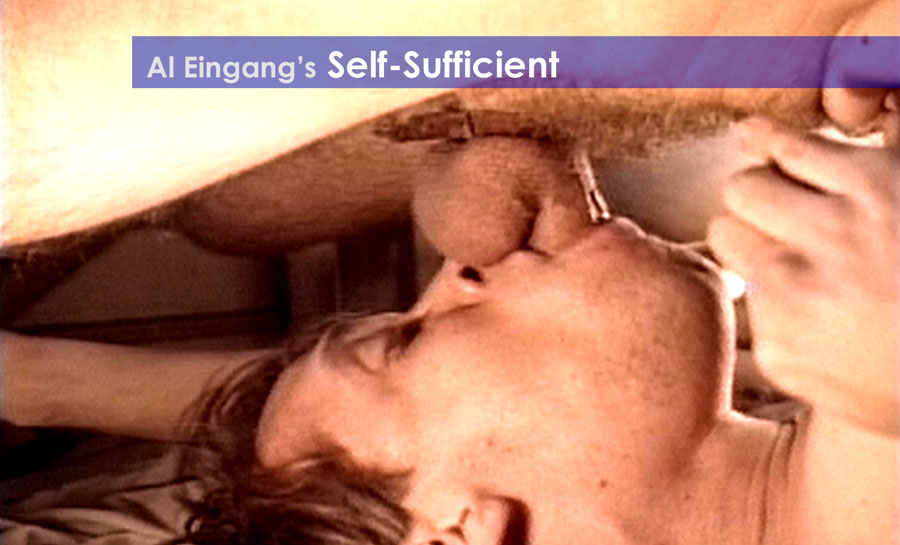 "Eingang, as we have noted before, is a singular sexualist, able to tongue, lick, suck, chew, and ingest more of himself than most men dream about.  Among his most amazing feats are his ability to dive freehanded on his upstanding erection (like a dog catching a bone), his languorous prickteasing (of both himself and the viewer) by gradually taking more and more of himself with each successive plunge, his penchant for sucking his balls while his erection brushes over his eyes and forehead, his assplay with a dildo while giving himself head, his enthusiastic, almost tender lip suction, and finally his ability to facefuck himself with steady, rhythmic strokes.
Self-Sufficient  is no more nor less mesmerizing than A Young Man From Nantucket– only more of the same unbelievable action that must be seen to be believed."
Jerry Douglas
Manshots Magazine
Stills from Self-Sufficient (click to enlarge)

After the phenomenal success of my first solo video – and the demands from fans for more – I set to work on Self-Sufficient; working alone in my bedroom, capturing some of my most intense private erotic moments.
• There are 6 segments in this one, starting with a fun, short one: me performing a solo-sucking, cock-stroking duet with me on a TV screen, ending with TV me squirting a big hot load.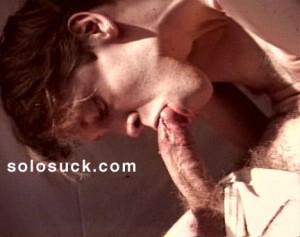 We really get into it in • Segment 2, slowly stripping off the jeans and t-shirt from segment one in a standing, solo-sucking, cock-stroking dance until I'm down to a jock and hard as a rock. We cut to me seated, with the camera between my legs so you have a ring-side seat for this hot solo scene, with me stroking and sucking on my big, hard, hairy prick, edging myself to that moment where I can't wait for that hot load and I squirt it up, into my throat with half of my meat buried in my mouth, with the overflow dripping down my veiny shaft and my furry nuts.
•Segment 3 continues the same point of view; you're on the floor between my legs as I make love to myself in a seated position. I start off in a pair of gym shorts, slowly, sensuously getting my cock hard, then pulling out what was my favorite dildo in those days and gently working it into my hairy ass, with that mix of pain and pleasure you sometimes get at the beginning of an ass-fucking. I fuck my hole and stroke my big meat for a while, until it's time for some man-scaping! I Grab my electric clippers and do a sensual trim job on my nuts, cutting back the foliage and enjoying the vibrations of the clippers on my hard dick. I finish up on my knees at a 3/4 angle to the camera, enjoying my trimmed-down cock and balls, stroking and sucking and lick my prick and my nuts.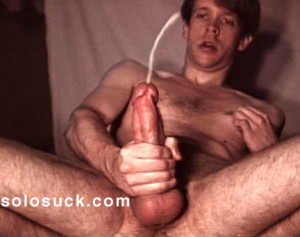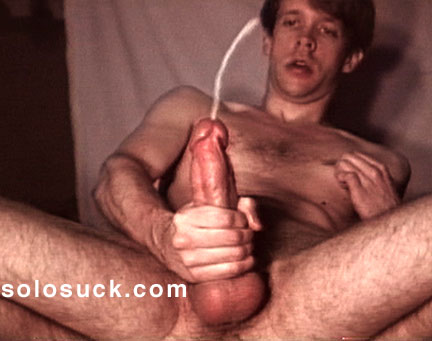 We finish this part in the position we started in, seated, working my greedy, hairy hole with that black dildo, and licking and sucking on my huge, freshly-barbered tool. I get a little more depth with every downward swoop of my mouth, taking 9/10s of my pole until it's battering my throat, and taking a break to stimulate one of my sensitive nips with the spit and pre-cum slick head of my cock, all of this with that dildo still happily jammed into my fuckhole. I've pushed my self so close to the edge at this point that I can't hold back for one second longer, so I lean back and shoot an enormous gusher of man-juice for you.
• For segment 4 we shift to a close-up side-view of me in my favorite sucking position – shoulders and head on the floor – in what yogis call the 'plow' position – with my irresistible man-parts hanging above my face like luscious, delicious ripe fruit, begging to be worshipped and pleasured as only I can do. I don't go for depth right off – the first part is all about teasing my fat, sensitive cock-head and ball-sac, working myself up. I switch to seated position, coaxing some sweet, sweet pre-cum out of my prick before I go to town; bobbing my head up and down and getting three-quarters of the way down to my balls, moaning with pleasure. Another quick position-shift, so your face is right between my thighs, watching as I push myself further down my shaft, applying loving suction to five-sixths of my 8 incher and driving myself crazy with pleasure.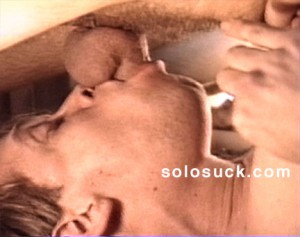 At this point I have myself so horned up that I have to go back to the original 'plow' position: my mouth needs a good, long fucking, and my cock is ready for some serious mouth-fucking. In addition to pumping my hard meat in and out of my greedy mouth, I really go crazy in this one: rubbing my cock and balls all over my face, licking, biting, and sucking on my nip – and my nip and cock-head at the same time – and getting so worked up I end up fitting my big dick AND my balls in my mouth at the same time! By then I was so far gone in my lust that I had to go back to a serious mouth-fuck, finally squirting a huge, moaning load down my throat, with just enough left over to squeeze the last few drops of cum out onto my tongue for you.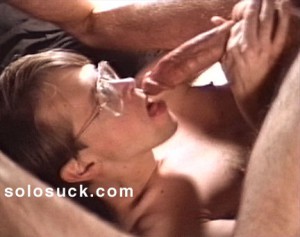 • Segment 5 is a solo lovemaking session in a modified Plow position – with my back on an upright backrest with my feet ending up behind my head, so you have a perfect view. I really seduce myself in this one – stroking my chest and belly; sucking on my fingers, and, then, going to town on my legs and feet with my lips and tongue: licking and sucking my toes and feet and my hairy legs, and – finally – going after my delectable prick. I shifted the camera to the side and put on my glasses at this point – I'm a very visual guy and I love watching my giant tool and my furry nuts and my hairy ass pumping in and out – and then I got down to the most serious face-fucking in this video. If you want to see a man with a huge prick pounding his own throat – totally balls-to-lips, no holds barred, cock-sucking, mouth-pummeling solo oral fucking at it's finest – then this scene is for you. After a good workout I can't hold back anymore and I let go: shooting the first squirts down my throat, then pulling out to drop the rest of my load on my tongue, milking and licking and sucking the last drops out of my monster cock like the greedy cum-pig I am.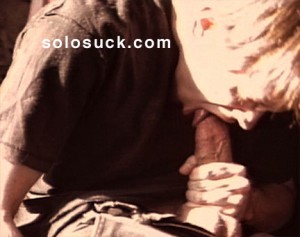 In the final • Segment I'm seated on a stool for a good, hot, sit-down meal, and meat is definitely on the menu! I start off fully clothed and slowly strip down as I get deeper into my cock-trance – and deeper down on my rigid pole. Like a lot of guys, I'm a highly-sexed man, and I love sucking cock, and I really love getting a great blowjob. UNLIKE a lot of men, I don't have to wait for someone else to come along when I need the satisfactions of giving and getting amazing head, as I do in this beautiful, sun-drenched autofellatio clip. Stroking and licking my sensitive cock and ballsac, I gradually push further down my veiny shaft, delivering exactly the right stimulation at exactly the right time, as only a man who can deep-throat himself can do. I stroke me load out at the end of this one – bending over at the crucial moment to catch as much of my juice in my mouth as I can. It's a hearty meal AND a tasty dessert, all in one package!