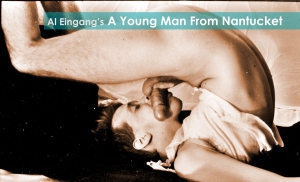 "
I have no more superlatives to add. And I have no connections to this video. This is just one man's opinion, but here's my advice. Take your allowance; take the rent fund; take the money for Mama's operation– and send for this video. Now! You owe it to yourself.
"
Michael E. O'Conner
Torso Magazine
Stills from A Young Man From Nantucket (click to enlarge)

My first solo video "A Young Man From Nantucket " was named one of the "
Top Ten Videos Of All Time
" by reviewer Dave Kinnick in Advocate Men magazine.  Here's what you can expect in each scene: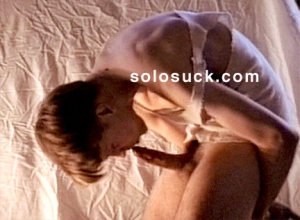 • The opening scene is a remarkable standing autofellatio performance – I alternate stroking my big dick with bending forward to lick my fat, shiny cock-head and then work my lips down my veiny shaft.
This is the first video I ever shot of myself, and I was really excited to get it up and show it off – my 8 inches standing up proud and my solo blow-job skills on display. I've been making love to myself – sucking my own cock and fucking myself in the ass – since I was 11, and it was such a rush to discover how much other people enjoy and appreciate my skills.
Imagine having someone give you head who can feel everything you can feel and adjust what they're doing to produce maximum pleasure and sensation for you – that's what I get to experience every time I suck my cock, and I think this particular scene really gives you a window into my private pleasures. When I lick and suck the sensitive head of my prick and then plunge down the shaft to bump the back of my throat I get to feel the pleasure of the sexual Top and the Bottom – the suck-er and the suck-ee.  I finish of by stroking a big, hot load out of my stiff cock.
• The next set of scenes starts off with the first time I shared my solo fucking talents with the world, and has given men all over the world a whole new way to get off. I get messages from guys all the time; "I never suspected that this was even possible until I saw your videos – now I always have a hot, willing hole to fuck, even if I'm alone".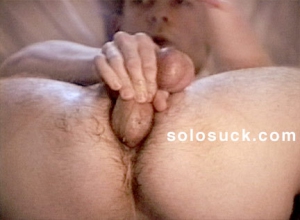 We start off with a hot solo fuck; with me lubing up and loosening up my butthole and then getting right down to business. It isn't always easy to get my fat cock into my ass, but damn does it feel amazing!.
I pop my big cock-head into my hole and start to feed the shaft in – sliding it in easy at first until more than half of my 8 incher is buried deep in my ass – and that's when the real ass-fucking begins!.
We come in for a nice close-up so you can really see my thick prick sliding in and out of my butt. After fucking myself for a while my dick starts to get lonely so I pull out a black dildo and push it in there for a little bit of solo double penetration!
I can't resist my delicious pole any longer so I pull it out of my hole – leaving the dildo in there – give it a few strokes and then I sit up and slide it into my mouth. I bob up and down on it while I push the toy deeper into my ass as this scene shifts into the next, with another  "I can't believe this guy is DOING that!" autofellatio performance.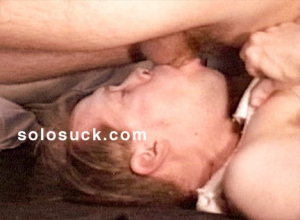 I'm sitting on the floor at first, bending forward to selfsuck, and it's a tight close-up so you really get to watch me make love to my thick, veiny cock with my tongue and my mouth and my throat. My fat, shiny dick-head gets a lot of attention as I lick and suck on it, alternately swooping three-quarters of the way down my swollen shaft to work the head with my throat muscles. If you like body hair as much as I do you'll also enjoy my furry legs and pits and my thick pubes!
I change position, and for the rest of this scene I'm in the "plow" position – on the floor resting on my upper back with my legs thrown over my head so my heavy equipment is hanging right in my face, begging to be worshiped. This is where I really fuck my mouth – plunging my hot cock into my throat and getting so excited that I take almost the whole thing (my 3rd video "Because He Can is the first one where I swallow it all the way).
It's all face-fucking from here in – driving my meat in deep and pulling out to the head, with a couple of short breaks where I pull all the way out and give my nuts a little attention with my tongue. The ending is a real pile-driver moment with me getting more and more frenzied as my hot mouth brings my swollen prick closer and closer to the final ejaculation. With some deep moans I go over the edge and pull out for a spectacular explosion of cum – shooting jets of juice all over and sliding back in to suck some jizz out of my shaft. I love the huge loads of man-juice that my hairy nuts produce, and I hate to waste any, so I squeeze and milk my meat until I get every last drop
There's a full-speed version of the spectacular orgasm, and then again in beautiful slow-motion so you and I can get off together.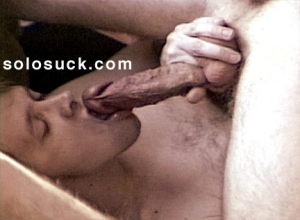 • The final scene starts with a short standing JO scene where I stroke my big cock then roll a condom down my stiff shaft – I love playing with rubbers! – then I bend right over and suck on my latex-covered prick. The scene shifts to a close-up of me seated, still with the condom on my swollen dick. I stroke and suck on my cock – bending over and licking sweet pre-cum out of my piss-slit after I stroke the rubber off of my cock. Next up is the final, climactic shoot of the video. I'm on the floor, resting on my mid-back with my legs pulled up and back above my head, so my hairy, sensitive nut-sack and my thick, veiny cock are poised right in front of my mouth. This is my favorite position because I can swallow all of my impressive meat this way. I really go for broke here: sucking, licking, and nibbling my fat cock and my furry balls; lapping away on my sensitive nipple with my tongue and teasing it with the head of my cock, working gobs of sweet, delicious pre-cum out of swollen penis. I fuck my own mouth in a way you'll have to see to believe until I can't hold off the waves of ecstasy any longer and I have to pull out and shoot a huge load of juice all over my face and onto my outstretched tongue.