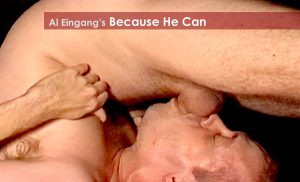 "In Because He Can, Al Eingang once again proves himself to be role model, patron saint, and object of envy for all would be auto-fellationists."
Jerry Douglas
Manshots magazine
Stills from Because He Can (click to enlarge)

My third solo video "Because He Can" is the first one to capture – in multiple scenes – my extraordinary ability to swallow all of my big, thick cock – all the way down to my balls.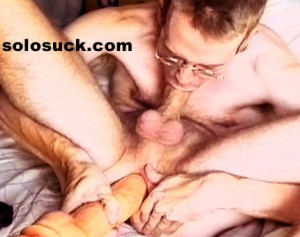 • Scene 1 is a hot mix of solo oral action and assplay, with me working my hungry ass with a baseball-bat-sized dildo while sucking on my huge prick – the best of both worlds, for me! I start off with a quick bit of autofellatio humor: I have the two-foot-long dildo sticking up out of my pants and I'm sucking on it, eventually bring my own stiff meat into play, because I have better things to do with that huge dildo. I get as much of that monster inside me as I can and then I go cock-crazy. With that huge toy pumping in and out of my hairy hole and me alternating sucking and licking my own big tool with stroking it and doing what I can to force more the dildo into my hungry ass, I'm in another universe of erotic pleasure. I bring myself to the edge a few times and then I just can't hold back – I stroke a big, messy load out of my rigid dick, with cum flying everywhere, catching what I can in my mouth.
• Scene 2 is where things get deep. This was shot in a warehouse space by two straight friends of mine – they were fascinated by what I could do and loved to help out on camera. One of them was shooting stills and the other was shooting video – you know what I'll be shooting (and swallowing) by the end of this hot, hot scene. I start this one reclining on a platform with my back against the end of a set of shelves, stroking. licking, and sucking my sleeping monster hard.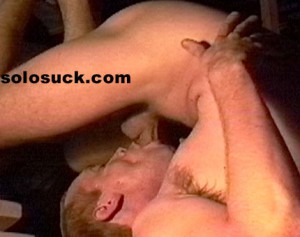 I tease myself for a while, with the still photographer snapping pictures, but you know I can't resist a big stiff cock in my face, so I'm soon bobbing my mouth up and down on my sensitive shaft and head. Have I mentioned how much I love my sweet, sticky pre-cum? The more excited I get the more I produce, and I do love to tease it out of my piss-slit and suck it down after coating my tongue with it and enjoying the subtle taste. I really enjoy sucking my cock in the sitting position, but I know that if I really want to fuck my face I need to roll back into the Plow position.
Once I'm on my shoulders with my legs over my head I can really get into it and totally lose myself in the rhythms and smells and sounds of my own solosexual body. I alternate pounding my mouth with my pile-driving tool with tender stimulation of my balls and dick with my mouth and tongue until I can't hold the fow back for one second longer. The thick juice pours out of my prick like water from a faucet, filling my mouth and dripping in gobs on my face. You get to see that again in slow motion, then we finish up with me squeezing the last few globs of cum out and into my mouth.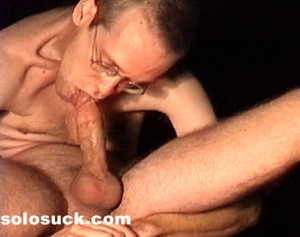 • Scene 3 was shot in the same space, but this time I wanted some time all by myself with no distractions. I have really enjoyed having other men shooting video of me over the years – in case you haven't noticed; I'm a little bit of an exhibitionist 😉 – but there is something special about the scenes I've shot myself, and I think this is one of my best. With no distractions, my whole universe narrows down to mouth and cock and balls and cum ( and my super-sensitive nips), and I really go crazy in this scene, in the best way possible. I start out seated, stroking and licking and sucking, slowly pushing myself to take more and more of my huge cock into my mouth; working the head and then swooping down the veiny shaft, getting lost in the unique experience of being both the top and the bottom in perfect synchrony – becoming an amazing loop of constantly amplifying pleasure.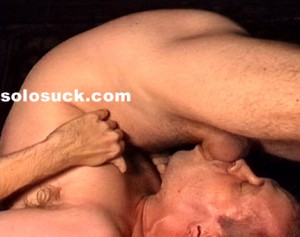 I'm choking myself with the shiny swollen head of my pole buried deep; giving me a vigorous throat massage – but when I get in this state I know I won't be satisfied until I have my lips pressed into my pubes, my balls resting on my nose, and every last inch of my meat forced into my mouth and down my throat, so I flip over into the Plow position for the spectacular conclusion of this scene. I start off semi-soft, and I do love sucking myself hard – working my sensitive ballsac over with my tongue and teeth and mouth as my meat stiffens. I stroke and suck my cock – going deeper with each plunge into my throat – until I can't hold back for another second a drop a spectacular load in my mouth and down the side of my face, licking and sucking the last few drops straight from the nozzle.
• For Scene 4 my straight buddy Phil was back on camera, and I really put on a pretty remarkable performance. We're on my buddy greg's bed, with beautiful natural light streaming in. I start out with a pair of underwear on, but they don't last long. I play with my cock and nips a bit – starting to get my self horned up – the start to work on my dick with my tongue, starting to suck myself. There's a very quick cut to some man-scaping of my family jewels with my clippers, and then we get down to hardcore cock-sucking and cum-eating for the rest of the scene. The great thing about having a cameraman is that you get a lot of different angles and closeups I can't manage when it's just me and the camera, and you really see that in this scene. Phil and I were old friends, and he's a very playful guy, so there's a nice air of fun here. But – that certainly doesn't mean that I don't get down and dirty on my irresistible meat – teasing my boner in a sitting position for quite a while with my tongue and teeth and lips and throat, and stroking that monster when I take a break from sucking on it.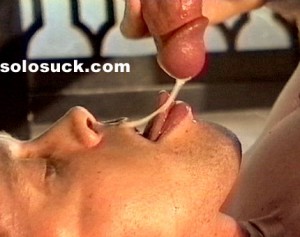 I get myself hot and bothered and then it's time for some throat-challenging mouth-fucking, so I flip over and get ready to pump that big, hard fucker in and out of my very, very happy, accommodating mouth. One of my favorite tricks in this position is to change the angle of my head – twisting it to the side – so I get a completely different kind of stimulation, with my tongue and teeth hitting different parts of my cock than usual. Doing that always gets me leaking extra pre-cum, and I'm always quick to squeeze it out and lick it off. After some vigorous face-fucking and cock-stroking I'm ready to blow – edging out not one, but two small loads that spatter all over my face and then gush into my open lips, and then going in for the final climax, with a huge flow of thick, ropey cum pouring out of my stiff meat and into my eager, hungry mouth. I still get a hardon every time I watch this spectacular, multi-orgasmic sequence and I know you 'll be shooting big loads right along with me when you see what I can do.