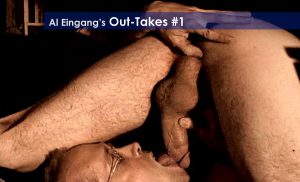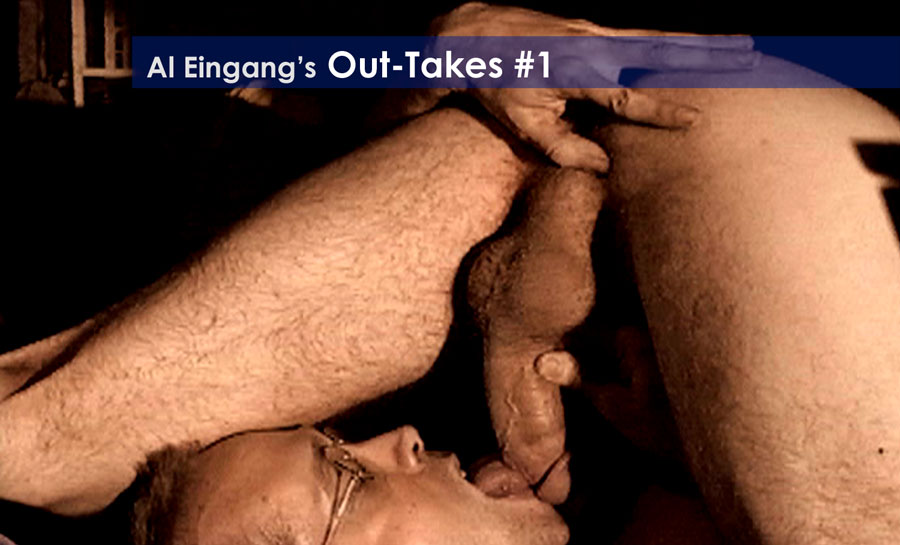 When I finished editing my 3rd solo video "Because He Can" I realized I had a ton of great solo-suck, JO and solo-fuck material that didn't make it into the first three, so I put together
Out-Takes #1
!
Stills from Out-Takes #1 (click to enlarge)

• Part 1 of Out-Takes #1 starts off with some short clips of me stroking my my big cock, and a really nice silhouette scene of me. I'm standing in profile, getting my dick hard in a pair of tighty-whitey underwear, then pulling my meat out and licking and sucking myself in the standing position.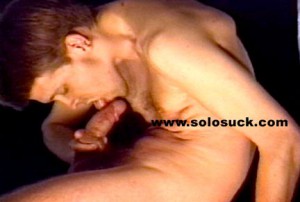 I finish up Part 1 with one of my favorite autofellatio performances. Sitting on a stool in front of a black backdrop, after stroking my giant cock to full hardness, I lean over, grab under my thigh with one hand, and go to town on my swollen rod with my tongue and my mouth. I use one hand to squeeze my hairy meat to almost painful erectness, until the thick veins stand out and my fat cock-head is huge and shiny. You can really feel my cock-greed as I lick and nibble on the swollen head then swoop down the shaft, taking my thick pole into my mouth and throat. After taking myself to the edge with my mouth I stand up and pump a huge load of my juice out – squirting like a cum-fountain in a profound, ecstatic orgasm. Super-hot, and great set-up for the next scene where I'll be moving on to taking care of my cock in other positions and really, truly fucking my mouth!
• Part 2 starts off with a quick, frontal "show me the meat" clip of me stroking a load out of my big cock. Up next: more cum – this time directly into my mouth and all over my face. Nice!
The rest of Part 2 is one long self-suck scene, and it's really hot! I start off licking and sucking my stiff, veiny tool in the standing position, facing front.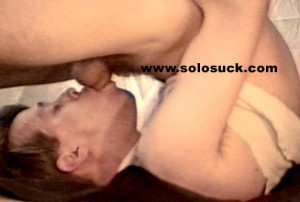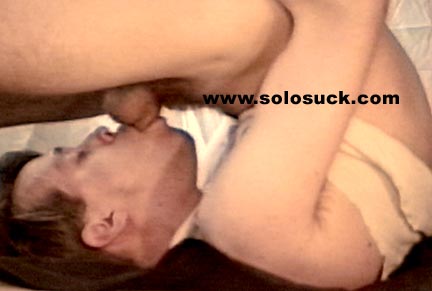 From there I move onto the floor and into a couple of different positions: sitting and facing the camera and pulling my face down to swallow my swollen prick, and then moving into my favorite – with my head and shoulders on the floor so my big cock is up above my head and ready to fuck my very willing mouth!
I love to drive my meat into my mouth in this position – fucking my face and my throat with my own engorged cock. I get a nice rhythm going and suck and tongue-tease my dick while I twist my sensitive nips and push myself closer and closer to the edge until I can't hold back any longer and I pull out to squirt the first jets of cum all over my face. But I'm a greedy cocksucker and I'm not going to waste that cum, so I quickly get my throbbing fuck-stick back in my eager mouth and suck the last squirts of juice out. Yeah!
• Part 3 is the section of this video you want to forward to if you're looking for some hot, solo butt-action.
I start out with what was my favorite dildo at that time – nothing outrageous, just a nice black cock, loosening up my hairy asshole so I can fuck myself. After the warm up I swing my cock down toward my ass and slide that big boy right into my hole, giving myself a nice, thorough solo fucking.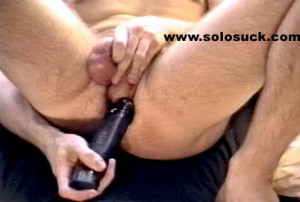 Once I get going and get my ass opened wide and ready I do a little bit of double penetration – giving my big dick some company in my hole with the black dildo. I'm an ass-pig and that isn't enough for me, so I finish up this scene with a truly unique act: pulling a condom on over my FOOT and trying to foot-fuck my ass. I'm crazy flexible, but I can't honestly say I got more than the toes into myself. It sure was fun trying!
Next up is a quick, experimental scene – less than 3 minutes. It's a closeup of me stroking my fat cock with some video effects behind it, sliding my loose dick-skin back and forth on my shaft and getting myself hot so I give a couple of licks to my cock – slurping up the sweet delicious precum direct from the nozzle! A bit more stroking and I"m ready to squirt a big, hot load of juice.
We finish this section off with around 12 minutes of mostly solo anal action – playing with my hole while I stroke my cock. This scene includes my old buddy the black dildo – in one bit it's augmented with a fat roll of cash stuffed into the condom with it. I'm wearing a totally ripped up pair of black jeans – the crotch is completely gone – while fucking my ass with the toy – taking a break to suck on it – and working myself up to a hot squirtin' finale!
• Part 4 is is one long scene and it's all solo sucking, with a huge load in my mouth as a reward at the end.
I love to shut myself away in my bedroom, limber up, and swallow my fat, hard cock and – sometimes I decide to turn on the video camera so I can share my uniques pleasures with you. For this scene I'm in my favorite selfsucking chair – one you'll see in a lot of my videos. It's a sling chair that allows me to throw my legs over my head and really pound my face with my huge cock – challenging my throat with my stiff, veiny shaft.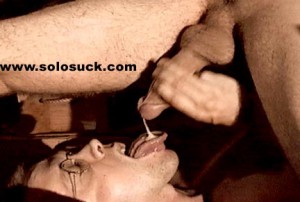 One of the best things about swallowing all 8 inches of my meat (aside from the obvious – that I'm fucking my throat with my own cock) is when I push for those last inches and feel my hot nuts hitting my upper lip and coming to rest on my nose. I love the smell and the feel of my hairy sack up against my nose. In this scene I was really hot for my nutsack and spend some extra time showing it some love – licking and sucking on that sensitive skin, and rubbing my beard-stubble around, which is one of my absolute favorite things
A lot of men have told me that one of the hottest things about my videos is how clear it is that I'm in love – and lust – with my hard hairy prick and my big, sensitive balls, and I think this really comes through in this scene. Whether I'm licking the head or swallowing the stiff shaft to the base, I am a man obsessed and possessed by cock, and I'm incredibly lucky to one of the few men around who can really, truly, make love with himself in ways most people only experience with another person..
I finish this one off with a truly massive load – delivered directly onto my waiting tongue. Watch the final moments to see my juice building up on my tongue and then sliding down into my eager throat. I still get hard every time I watch it!