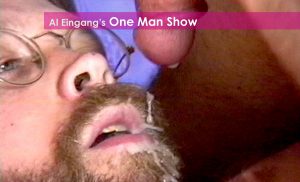 My sixth solo video One Man Show has (if I can blow my own horn here) some of the most accomplished – and beautifully filmed – solo cocksucking you'll ever see. If you're looking for deep-throat solosucking with multiple orgasms and enthusiastic solo cum-eating then this is the video for you.
Stills from One Man Show (click to enlarge)

The first section of One Man Show is divided into three scenes:
• Scene 1 starts off with a quick salute to the beauty of the stiffening cock. Watch the drama of my big, fat, hairy prick as the excitement builds and the pumps into the shaft – from soft to stiff and standing proud in just over a minute.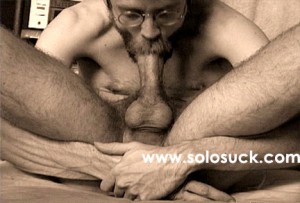 • Scene 2 is a sepia-toned, multi-position symphony of solo lovemaking, with a voice-over of me talking about my personal history as a sexual athlete and about the unique pleasures I've been able to experience as a man. I have a beard in this scene, and also in :
• Scene 3; one of my favorites. This one was shot by one of my open-minded straight buddies, Phil. I'm in my favorite sling-chair, which is perfect for licking and sucking on my delicious cock and my furry nuts. This is a true self-love session; starting out slowly, worshipping my big, beautiful cock and my swollen balls. Sucking my dick and stroking it and licking it and sucking down the stream of incredibly delicious pre-cum that drips and oozes into my hungry mouth throughout this scene.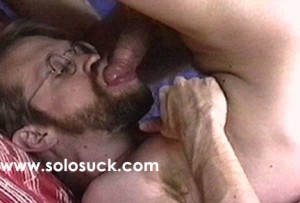 As my excitement builds I alternate enthusiastic, passionate mouth-fucking with shaft-stroking – watching my thick, veiny meat swelling from just a few inches away, until I can't hold back the load that's been building through the session. Edging my straining prick with my tongue and lips and teeth I finally can't hold back and I let a huge gush of my cum squirt and pour out of my stiff meat, sliding down my tongue into my throat and drenching my mustache and beard.
We finish off with a quick treat for you fans of my incredible solo anal talents. I love to stroke my huge, stiff pole while I play with my hungry, sensitive hole, and this scene starts with a voice-over where I talk about the amazing pleasures of, and my history with hand/ass play. Sometimes I want toys, and sometimes my hand is all the toy I need to drive myself to an ecstatic climax – pushing more and more of my hand into my ass until the stretching of my hole and pressure of my hand on my sensitive prostate drive me right over the edge into a huge, gushing orgasm. Yeah!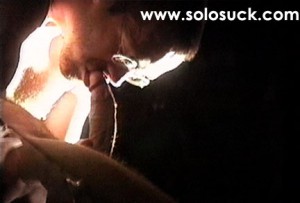 • Section Two is one long, dramatically lit and shot feast of solo cock-love, with a good mix if prick-stroking, dick-licking, and spectacular throat-fucking lips-to-balls solo cocksucking.
Shot in the dark with a spotlight, this is a 24 minute tribute to the intense love affair I've had with my cock since I started sucking myself off as a boy. When people ask me what being able to give myself a blowjob is like I tell them to imagine what it would be like for them to get head from an incredibly passionate cocksucker who was able to feel every sensation that they were feeling and respond to it in a way that intensified it perfectly.
Whether I'm driving myself to the edge by licking and nibbling on the exquisitely sensitive skin on the underside of my cockhead, of diving down and driving that swollen head deep into my throat, I am a man possessed, and in this video you get to share in my unique pleasures.
After stroking, sucking and edging my straining cock repeatedly, I'm finally ready for a thick, creamy reward – I can't hold back and I squirt a huge load of my cum all over my mouth and my straining, greedy tongue, licking the last few, precious drops off of my swollen cock. Yum!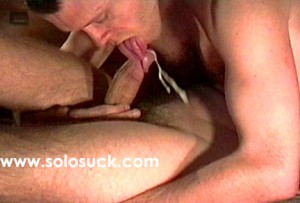 • Section Three is one long, beautiful autofellatio scene – a number of my fans have told me that this is their favorite from all of my videos.  I start of seated on the floor – stroking my cock and talking in a voice-over about the pleasures of edging.  I stroke myself close to the edge, and then – you know – there's no way I can keep my mouth off of my hard, hairy throat-fucker.  I squirt the first of the four loads in this multi-ejaculation spectacular, and then I need to lick up some of that juice, so I go to work on my prick with my mouth and tongue and teeth – slowly taking more and more of it into my mouth as I bob up and down and slurp on my hot meat.  I do some more stroking and edging until I can't resist anymore and flip over on my back so I can give myself a real face-fucking.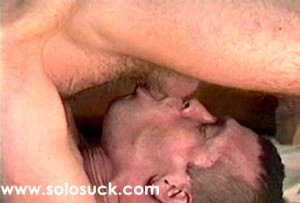 After I suck what's left of that first load out of my pubes like the thirsty cum-pig I am, I really go to work – pumping my stiff meat in and out of my mouth.  When I get totally lost in my cock-trance, as I do in this scene, there is no stopping me from pushing my limits until I have every last inch of my big dick buried in my mouth, with my hairy nuts pressed against my nose and my swollen cock-head fucking my tight throat.  I shoot two loads directly into my mouth in the next few minutes – swallowing every drop and still managing to coax some delicious precum out of my fat, hard meat, stroking and sucking like my life depended on it.  As i stroke and suck my way toward the final, noisy, gigantic load of this amazing scene, you can see the cum from my previous squirts getting whipped into a tasty, nutritious man-meringue, on my prick and in my mouth.  I finally can't hold back from the final, spectacular climax and let loose with a huge load, straight from the nozzle into my grateful mouth.  But – even then that isn't enough for me, and I play with my cum-load – pulling it back out of my greedy mouth and dripping it off my cock back onto my lips until I can't resist a moment longer and swallow it all in one big gulp.  We finish off this virtuoso performance with a slow-motion replay of that final cumshot, totally satisfied.