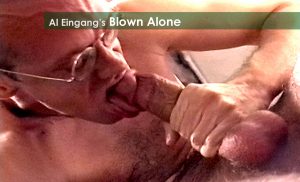 Stills from Blown Alone (click to enlarge)

My fifth video Blown Alone is made up of two long solo scenes, so if you really want to get into my man-alone cock-trance with me then this is a good one for you.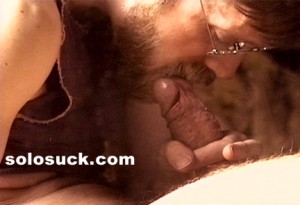 • The first half is a scene I shot in 1993 (I had a beard back then). One Sunday afternoon I set up some mirrors and a camera in a sunny window and made love to myself for a couple of hours. I really got into myself that day, using the mirrors and the video monitor to watch myself stroking and sucking on my big, thick, veiny cock; feeling the prickle and rub of my mustache and beard as I licked and nibbled at my ballsac.
I start off in a ripped undershirt and a stretchy pair of black long underwear – teasing my big meat through the fabric. Starting standing and then moving to sitting, I pull my prick out and play with it, then cover it up again – going back and forth until I can't resist bending over to lick a delicious bead of pre-cum off of my swollen cock-head. After a while I slide myself down in the sling-chair – into a modified Plow position – so I'm in the right position to give cock the attention it needs from my mouth and lips and tongue and teeth and beard, and to give my mouth some loving fucking. This isn't a long scene, but I think it's one of the best-looking I've ever shot, with the natural light and the framing of the action.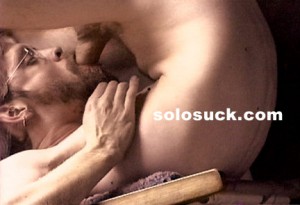 The rest of this scene is pure self-suck and jackoff action, with the ambient sounds of the neighborhood and the sounds of mouth and fist on cock. I shot this in front of two mirrors, so you get multiple viewpoints of the action, and I think it really captures the intensity – and the beauty – of my self-love. Just watching the looks that pass over my face as I joyously celebrate my manhood and my love of cock is tremendously satisfying and erotic.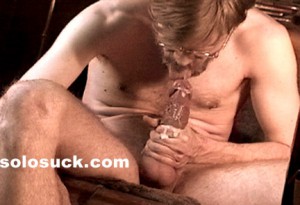 I love to take myself right to the edge of orgasm, and to play there on that edge, feeling the energy moving in my body. In this scene I play with the edge and get myself so worked up that within a minute of shooting a load in my mouth and letting it dribble down my shaft and over my hairy balls, I take myself in hand and come again, with a second full orgasm!
• For scene two I asked my friend Michael to come over and run the camera while I played in a patch of sun under the skylight in my back room. This one is more of a performance – I was showing off for him and getting into the erotic energy that that generated between the two of us. There's something about having another man filming me that really gets me going!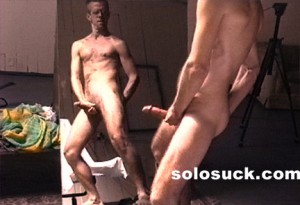 I start off standing in front of a mirror – first in a pair of ripped-up shorts, but those don't last long. There's a good deal of hot JO, including a favorite trick of mine: reaching around behind my back and between my legs to grab my nuts and pull them back toward my butthole. This pulls my big hard cock super-taut and makes the whole shaft even more sensitive than usual. I can get a lot of my prick in my hungry, hungry mouth while standing, but if I really want to go at it – and you know I do – I move to a chair and go at myself for a while, then alternate sitting with standing for the rest of this scene.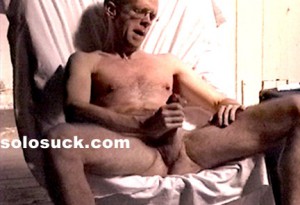 I really get into myself – licking and sucking myself off, worshipping my hairy tool and working the head of my cock with my tongue and teeth. I love to play with my asshole while I work my cock, and at various times in this scene I fuck my hole with (most of) my hand, and with my balls! I torment myself – deliciously – for a long time, showing off for my buddy on camera, until I can't hold off for one more second and I shoot a couple of small loads and then got for the Big O and shoot the big one at the end, and lick it off my hands. Yum!